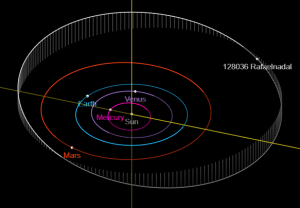 For Indian Wells and Miami, Nike is piecing together a stellar outfit for Rafael Nadal that's topped off by something truly out of this world. Of course, I'm referring to the footwear Rafa will be sporting on court: The Vapor Cage 4 Asteroid Tennis Shoe. In 2008, the Spanish Observatory requested that asteroid 128036 be named after the Mallorca-born superstar. This particular asteroid was discovered on May 28, 2003, at the Observatorio Astronomico de Mallorca. The request was accepted by the International Astronomical Union in an effort to pay tribute "to one of the greatest tennis players of all time." You can track its orbit at NASA's JPL website.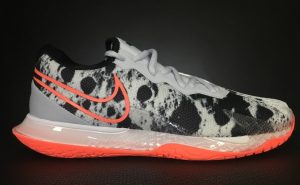 The shoe itself depicts an asteroid graphic with flame details to honor Nadal's explosive play. As can be expected, the Spaniard's iconic bull logo makes a couple of appearances on the shoe. It alternates with "RAFA" on the tongue and heel. Inside, a very cool insole depicts additional asteroid imagery. In terms of performance, the Vapor Cage 4 is Nike's most durable tennis shoe. It comes with a 6-month outsole warranty, and is designed to be more responsive than any previous Cage.
The Sky Gray, Orange, White, and Black colors in the asteroid shoe will all tie into Rafa's apparel, creating a one-of-a-kind look this spring. While he'll be wearing a sleeveless top on the court, you can get the equivalent AeroReact Short Sleeve Top for yourself. It features advanced Dri-Fit fabric and AeroReact technology for exceptional moisture management, and comes in a slim fit.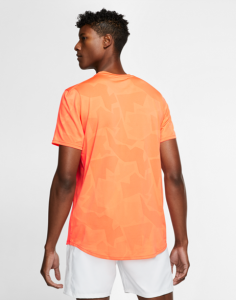 To layer up, Nadal will wear his popular Court Tennis Jacket. It resembles a classic bomber jacket, and comes flush with premium materials for comfort, style, and functionality. He'll also be sporting an exclusive Nike short designed to help him play at his highest level. It will not be sold in stores.